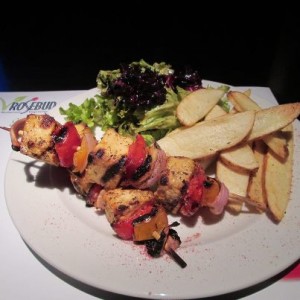 Ingredients for 4 souvlaki
4 skewers
2 Pack. Organic tofu ( 450 g . )
1 zucchini -
1 carrot
1 bell pepper ( any color we want )
1 pinch oregano -
2 tablespoons olive oil
salt and pepper .
materials marinade
4 tbsp olive oil
2 tablespoons soy sauce
juice of half a lemon
1 tsp oregano
1/2 tsp sweet paprika
1/2 tsp thyme
1 pinch cumin
salt and pepper
Cut the tofu into 12 cubes .
Place in a bowl all the marinade ingredients and mix with tofu .
Allow the tofu to marinate in the refrigerator for 12 hours less.
Cut vegetables to the size we want for our kebabs , mix with olive oil, oregano , salt and pepper .
Spread the vegetables in a baking pan and bake in preheated oven at 180 degrees for 15 minutes.
Let them cool and then passes them on skewers in the following order : zucchini , carrot , bell pepper , tofu .
Place 3 pieces of vegetables and tofu in each straw.
Place the skewers on a griddle, pour the marinade on top and bake at 180 degrees for 15 minutes.