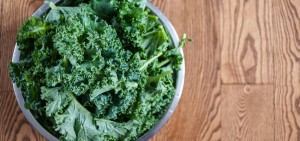 Ingredients
⅓ cup tahini, or sesame seed paste (I didn't have tahini on hand, so I used the same amount of raw sesame seeds and my Vitamix blended them for me along with the rest of the ingredients)
2 Tbsp. brown rice vinegar
1 tsp. ground ginger to taste, or 1 Tbsp. fresh ginger
1 Tbsp red miso paste
2 tsp. reduced sodium tamari sauce
2 Tbsp. toasted sesame oil
cayenne pepper to taste
1 head of fresh, local kale washed and dry
water
Directions
Add all ingredients but kale to your high speed blender, and gradually add water, a Tbsp at a time, to allow you to blend and reach desired consistency. You can adjust ingredients as you like.
If using curly kale, rip it from the stems into bite size portions, leaving the center stem for compost. If you're using laminate kale, use your chef knife to trim it from the stem and slice into 1 inch pieces or ribbons. Add the kale to your salad bowl.
Add dressing and toss well to combine. Allow your salad to sit for about 20 minutes to marinate the kale and soften it, making it more palatable and allowing the flavours to meld.
Photo Credit: Shutterstock.com